Kakuro is the most recent puzzle to be described by the cliché "the latest craze in Japan is now sweeping the UK." It has similarities with sudoku as far as numbers have to be slotted into rows and columns based on which numbers occupy other squares, but there is one significant difference: kakuro does involve some maths.
Take a look at kakuro.info's daily puzzle to see what a whole puzzle looks like.
How it works
Given a grid, the aim is to ensure that every block adds up to the number at its beginning, using the digits 1-9 a maximum of once each. The numbers in the grid below indicate that the top row must add up to 4, the second row to 7, the first column must add up to 5, the second column to 3 and the third to 4.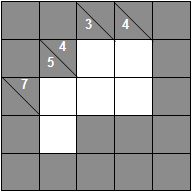 The key with kakuro is to know some of the most common patterns of numbers that add up to certain targets. For example, 3, as in the second column of the grid, can only ever be the total of two digits: 1 and 2. Just knowing this tells us that the second column has a 1 and a 2, but we don't yet know in which order.