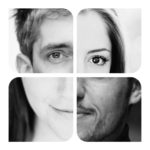 It's called Square, and it's produced by my longtime friends The Pensive Federation.
Key facts:
It has a cast of four awesome actors.
It's inspired by the "square" concept.
It's an hour long.
It's been developed through the PenFed's tried and tested process of workshops.
It's on at the Tristan Bates Theatre as part of the Camden Fringe from Monday 8th to Saturday 13th August at 7.30pm each night.