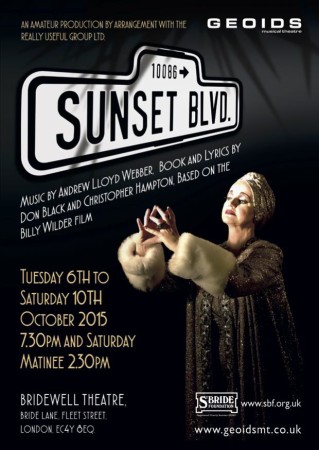 So this is exciting: Andrew Lloyd Webber's Sunset Boulevard returns to the London stage in October – and I'm in it!
Geoids Musical Theatre is producing the first amateur production of the show in London and it's going to be epic. I'm part of the ensemble, singing, dancing and acting my way through an assortment of roles.
Sunset has a great story based on the Oscar-winning 1950 film, in which Gloria Swanson played faded silent movie star Norma Desmond. And that's supplemented by a lush score and songs that range from comic relief to searing ballads.
We open on Tuesday 6th October at the Bridewell Theatre in Blackfriars and are performing every evening until Saturday 10th – including a matinee on the Saturday afternoon. There are just a handful of tickets left for Friday's Gala Night, when you'll get a free programme and a glass of bubbly in the interval .
It's a rare chance to see this show in London so do come along if you can. Tickets are on sale now!