Yesterday evening did not go according to plan. It's nothing very exciting but I thought I'd tease that up front.
Actually, I have nothing else to add. We did our show. I had an evening nap then went out for a curry and then decided to have an early night. As I was going to bed I got a text asking if I'd like to go to a bar. I said no because I was having an early night.
I couldn't sleep. I got up and went to a bar for an hour. That hour became nearer five hours. The end.
In the absence of anything more interesting to say, here are a selection of other blogs from the Fringe:
And here is a photo of me as a spaceman. Enjoy.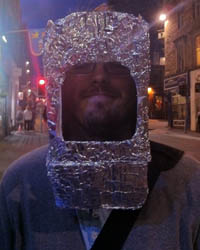 What I learnt today: Sleep is for tortoises. And I wish I were a tortoise.
Recommended show: Sleeping.
Obligatory plug: I'm in Three Man Roast (★★★★ – whatsonstage.com), 2.35pm weekdays and Saturday 20th at Finnegan's Wake on Victoria Street – free entry. Also at Tricity Vogue's Ukulele Cabaret at 9pm on Sunday 21st at The Three Sisters (that's free entry too).