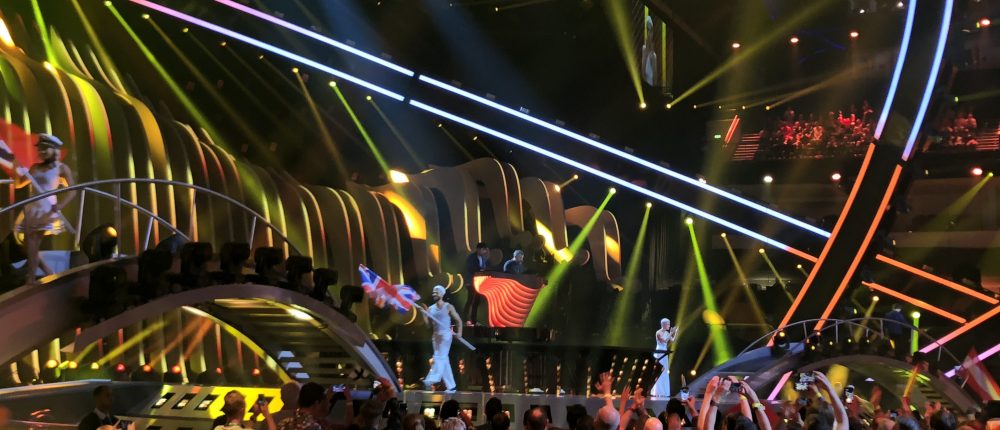 Tonight it's the grand final of the 2018 Eurovision Song Contest in Lisbon – and it's on of the most open fields in years.
Before I look at the 26 finalists, it's worth remembering the 17 who didn't make it through. They all worked hard and they didn't necessarily do anything wrong. It could have been the song, the staging, the specific competition and electorate in their semi-final – or just bad luck. All the acts have been travelling thousands of miles meeting fans, promoting their entries and singing their hearts out so hooray for them.
That's worth saying ahead of the sarky comments I'll be posting on Twitter later…
This year's finalists are a brilliantly mixed bag so there really should be something for everyone. You can read my thoughts on them back when they were just done semi-finalists too, in heat 1 and heat 2.
Ukraine: Under the Ladder by Mélovin
A great way to open the show and the first of many pyromaniacs to take to the stage tonight. It's rocky, gothy and ridiculous, but all in support of a decent song.
Why it should win: Pushing all the rock buttons.
Spain: Tu Canción by Amaia & Alfred
A lovely couple from Spain singing about love. That's pretty much all there is to it.
Why it should win: They're so sweet.
Slovenia: Hvala, Ne! by Lea Sirk
This explodes into life before settling into a funky if slightly ineffectual rhythm. But then it divides the audience by releasing the worst gimmick ever seen at Eurovision.
Why it should win: Audacity.
Lithuania: When We're Old by Ieva Zasimauskaitė
A super soft ballad the Ieva carries off beautifully. And if you know the man she meets at the end is her real life husband, it's all more poignant.
Why it should win: Both Ieva and her song are adorable.
Austria: Nobody But You by Cesár Sampson
Steely-eyed Cesár arrives on a spaceship with a gaggle of gospel backing singers to deliver a solid piece of contemporary pop.
Why it should win: That chorus.
Estonia: La Forza by Elina Nechayeva
Her voice. Her dress. Her high notes. If you're into opera, this may not seen anything special, but it's a tour de force vocally perfectly reflected in her amazing outfit. Will the juries love its aura of credibility?
Why it should win: That voice.
Norway: That's How You Write A Song by Alexander Rybak
There has been a lot of very reasonable criticism about this by the numbers attempt by Rybak to garner his second Eurovision win. But for all that it has at least partially worked, getting him to the final and for a time favourite in the odds. It's trite as anything but you can't blame the guy for trying.
Why it should win: Carefully ticking all the boxes.
Portugal: O Jardim by Cláudia Pascoal
I wasn't a great fan of this but it's warmed on me every time I've seen it, plus Cláudia and songwriter Isaura seem a joy. It's simple and probably won't do all that well but it's better than last year's Portuguese entry and that won…
Why it should win: It's beautifully sung.
United Kingdom: Storm by SuRie
We're a self-critical country so there's a lot of debate among fans. Was it the right song? Is it the right staging? There's definitely one sensible choice: putting SuRie in the spotlight. She wowed the crowd at the Brighton selection show and has been performing this flawlessly (albeit modulated down a little!) ever since, as well as being a fantastic ambassador for the UK and the Contest. As usual, it's not good to raise UK expectations but this is more than respectable and we should be proud of it.
Why it should win: Because SuRie is great.
Serbia: Nova Deca by Sanja Ilić and Balkanika
When this gets going, it's good fun, even though I have no idea what they're singing. Sanja's vocals devotedly work more than the ladies' though which makes this hit and miss overall.
Why it should win: Bringing the traditional ethnic sound back to Eurovision.
Germany: You Let Me Walk Alone by Michael Schulte
This is a touching solo number flawlessly performed by the ginger German. In a year where background video screens are banned, Michael has cheekily brought along an inflatable backdrop onto which twee graphics are projected. They're unnecessary and rather on the nose, but it's hard to say they're not effective at making this as heartrending as possible.
Why it should win: You need a heart of stone not to be affected by it.
Albania: Mall by Eugent Bushpepa
I've never got around to finding out what this is about (sorry) bruises it just doesn't grab me. It's another rock entry and one that's all about Eugent's live performance.
Why it should win: He knows how to sing, man.
France: Mercy by Madame Monsieur
It's unlikely that the message of this song (about a child born at sea, I think) will come across to the casual viewer but you're assured that you won't forget the title as you hear it many times. It's in French but mostly school level thankfully and overall this is a confident, low-fi entry performed well by the two Frenchest people you will ever see at Eurovision.
Why it should win: That hand movement.
Czech Republic: Lie to Me by Mikolas Josef
With a very different sound and some gloriously eccentric lyrics ("eat my spaghetti", "set my camel in the mood"), Mikolas is an eccentric bundle of fun. What's in his backpack? Will he bring a camel? His stage performance has been hampered by an injury during rehearsals, but he seems recovered and is bringing energy if not backflips anymore.
Why it should win: A triumph over adversity.
Denmark: Higher Ground by Rasmussen
It's about time a Nordic country sent some Vikings to Eurovision. These guys look ominous, huffing and puffing and marching about the stage, but you know they wouldn't hurt a fly – not least because their song is a pacifist anthem draped in the garb of pillaging marauders.
Why it should win: It's got a really good message but also beards.
Australia: We Got Love by Jessica Mauboy
I love Jessica. I love this song. I wish her vocals didn't sometimes sound a little off because I am longing for this to do well. When she hits it, she really hits it. Watching the semi-final at home, it wasn't quite there; last night in the hall at the jury final, she sounded terrific. I hope she nails it tonight. It's a standard pop song but it's really well done and let's not complain about good pop in Eurovision, eh?
Why it should win: It's going to be a Eurovision dancefloor classic (and of course Australia needs to win soon).
Finland: Monsters by Saara Aalto
This is pop too but brasher and really going for it with the staging. There's spinning (lifted from the staging of one of her other Finnish selection songs), dancing, dropping, and backing troupe dressed only borderline fascist. Saara clearly loves Eurovision and I hope she gets a good result.
Why it should win: She took three good songs to the Finnish selection.
Bulgaria: Bones by Equinox
This supergroup still feels like less than the sum of their parts but if you like it dark and broody, they are serving that in spades. These are talented vocalists with some sharp harmonies and Bulgaria clearly have their sights on winning one day soon – but probably not tonight.
Why it should win: Those harmonies.
Moldova: My Lucky Day by DoReDoS
God, I love DoReDos. This was lightweight in the best kind of way even before they added the staging; now they're pulling off the song and a little dance routine dressed in their flag's colours and while acting out a Whitehall farce. I can't tell you how many times I've watched their rehearsal clips. The spirit of 1981's Bucks Fizz is here in 2018 and thank goodness for them that.
Why it should win: The most fun item on the menu.
Sweden: Dance You Off by Bejamin Ingrosso
The Swedes know what they're doing. This is Justin Timberlake in Tron and it's been polished within an inch of its life. It comes with a good pedigree having of course already won Melodifestivalen (and Benjamin's aunt having already won Eurovision!) but they've tweaked the staging so that he is warmer and engages more with the audience. They're probably not set for a win but the Swedes remain at the top of their game.
Why it should win: It's like watching a music video.
Hungary: Viszlát nyár by AWS
That screeching of metal is AWS setting the pyro to 11 and charging around stage like there's no tomorrow. You'll either like this or you won't but as metal goes, they make a very good fist of it – while making Lordi look like Brotherhood of Man.
Why it should win: It's the metallest thing ever to hit a Eurovision stage.
Israel: Toy by Netta
Netta's arrived with a feminist pop song accentuated by chicken noises, vocal loops and dancing cat toys. It's bravura genius although it's never quite translated on stage as well as it did in those early "WTF?!" studio versions. It totally catches the ethos of Eurovision.
Why it should win: She's absolutely unique.
Netherlands: Outlaw in 'Em by Waylon
The Netherlands has an obsession with sending folk and country songs to Eurovision that I just don't get. Waylon is partly responsible, having come second as part of The Common Linnets in 2014 with a song that everyone seemed to love. (I didn't and was more than happy for Conchita to beat it.) I actually prefer this, despite some contrived lyrics (In Eurovision? Never!) and he can certainly hold his own.
Why it should win: Hmm. He's got presence?
Ireland: Together by Ryan O'Shaughnessy
This was promoted by a beautiful video of a couple of guys dancing in Dublin. The Irish team have incorporated that into the staging and it works seamlessly. It's a little distracting but then distracting from the song isn't a bad thing. It's a servicable if weirdly falsetto ballad but the presentation lifts it hugely. China's having their EBU contract cancelled as a result of blurring out the dancers has given this a burst of publicity that has sent it shooting up the odds.
Why it should win: It made me cry live. Twice. And I don't even like it much.
Cyprus: Fuego by Eleni Foureira
Last year, Portugal won with a slow ballad. The year before, Ukraine won with a slow ballad. Wouldn't it be nice if this year we went down the 100% fullscale pop banger route? Eleni certainly thinks so. This is by no means the most musically accomplished nor the most original entry but by George it's on fire as good as its name. The outfits; the dance routine; the hair flick. This has all the ingredients to go the whole way if that's the mood the voting public is in.
Why it should win: It's time for a banger (and Cyprus has never won).
Italy: Non Mi Avete Fatto Niente by Ermal Meta & Fabrizio Moro
Cyprus should've been the big finale. Instead we have this. There are a lot of words in here and alas some of them are on the screen, getting in the way of the action (such as it is). There's a message in here somewhere but it's lost in the two guys' angry expressions that make it seem like they don't want to be there.
Why it should win: Urgh. Let's say because of the message.
There you go. 26 songs. More than 20 justifiable winners in the right year with the wind blowing in the right direction. In practice, we're probably looking at Cyprus, Estonia, Ireland or Estonia. But it's still hard to completely write off Hungary, Israel, Norway, Sweden, France, Spain or Germany. The voting is going to be exciting. Long. And exciting.