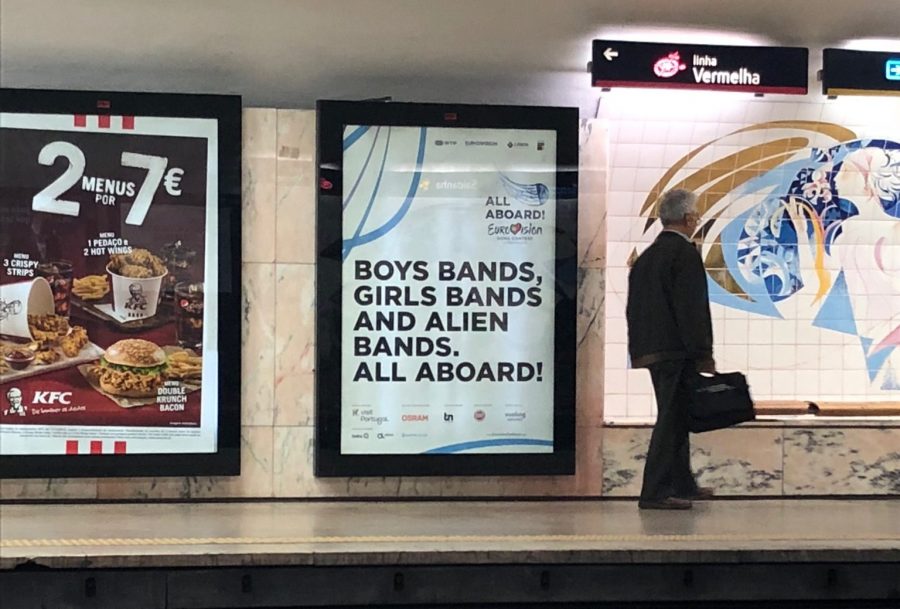 Like clockwork come the seasons: winter follows autumn, spring follows winter and now we rejoice as the greatest season of all follows spring: Eurovision.
You can expect bangers from the ladies and ballads from the boys as well as a glut of songs about dead family members. There are hardly any video screens but lots of lights and pyro, and an enormous stage.
Following Salvador Sobral's victory in Ukraine last year, we find ourselves in sunny Lisbon where 43 countries do battle for the Eurovision Song Contest title. First we must whittle those 43 down to just (just!) 26, so we begin with the first semi-final, from which 10 of 19 songs will qualify.
If you're in the UK, you can watch the BBC coverage on BBC Four or livestream the show free from commentary on the official Eurovision YouTube channel from 8pm. Although the United Kingdom qualifies for the final automatically, this is the semi-final in which we can vote, so get that dialling wand ready.
Enough with the preliminaries; on with the songs!
Azerbaijan: X My Heart by Aisel
It's a strong opening to the show with a banger from Baku. The staging reflects the Contest's nautical theme (slogan: "All Aboard!"), Aisel has a great voice and there's a clear Euphoria influence. The weak links are the lyrics, which are weirdly infantile at points and include some unwise advice about not using firewalls. Also it's spelt "Cross" not "X".
Verdict: Good start, poor cybersecurity.
Iceland: Our Choice by Ari Ólafsson
One of the hosts at the London Preview Party commented on Ari's visual similarity to Johnny Logan and once you've had it pointed out it's hard not see it every time. But whereas Johnny Logan lifted the Eurovision trophy more than once, Ari will be lucky to qualify. He's a talented singer but this is the epitome of worthy peace and love dirges and should be sent to Davy Jones' locker.
Verdict: Not our choice.
Albania: Mall by Eugent Bushpepa
Eugent is an experienced performer with an effective stage presence but however many times I listen to this it just doesn't stick in my head. It's being in Albanian doesn't help – of course people should sing in their native languages if they want but it's a fact of life that English language entries do better. I'm assuming this isn't about shopping but I don't like it enough to look it up.
Verdict: Touch and go for qualification.
Belgium: A Matter of Time by Sennek
It's a law of Eurovision that there must be at least one Bond theme and this has a heavy Tomorrow Never Dies vibe about it. But while the recording sounds great, the arena version has failed to bring it to life in any of the clips I've seen so it might well be heading out tonight.
Verdict: From Brussels with Love.
Czech Republic: Lie to Me by Mikolas Josef
An early favourite thanks to a charismatic singer, eccentric lyrics and contemporary music, its chances have suffered since Mikolas injured himself during rehearsals. The song is fun but needs an energetic performance to sell it, so if Mikolas is back to strength, this should sail to the final.
Verdict: Gets my camel in the mood.
Lithuania: When We're Old by Ieva Zasimauskaitė
I discounted this for a long time. It's deceptively simple, soft vocals delivering a gentle melody and personal lyrics, but complemented by some emotive staging this dark horse could find its way through.
Verdict: The sweetest ballad in the Contest.
Israel: Toy by Netta
It's fair to say that Netta has a unique performance style. This is bold, brash and stands out – maybe like a sore thumb for some but for others it is a potential winner. There are chicken sounds, vocal loops and vibrant costumes but Netta is so idiosyncratic that it all fits together rather than feeling like a gimmick. The feminist lyrics are timely too. Send it to the final.
Verdict: A Eurovision classic.
Belarus: Forever by Alekseev
This has been tinkered with a lot and I'm not sure the changes have all improved it. There's now a slower opening and more of a build, but that could work if it's staged well – and this definitely does have some attention grabbing floral stage gimmicks. I love the way Alekseev's vocals move between octaves although clips of his live performances have made me a little sceptical of how well he'll pull it off on the night.
Verdict: One of my favourites but the performance needs to live up to the song.
Estonia: La Forza by Elina Nechayeva
Estonia haven't had the success their songs deserved of late but that will all change in 2018. La Forza is operatic in music and in scale. Elina's vocals alone will take this to the final but an eye-catching dress of epic proportions can only help. The song itself is not especially memorable but it's another entry that is totally different from anything else in the competition and that's never a bad thing.
Verdict: A dead cert for the final and a potential winner.
Bulgaria: Bones by Equinox
Bulgaria held back revealing this until late in the day and hyped it a bit too much. It's good but it's not as good as it thinks it is and Equinox still feel more like a cobbled together group of disparate talents than a coherent whole. They can definitely sing though and having a large group of strong vocalists gives this an oomph.
Verdict: This will feel either weighty and meaningful or just gloomy.
FYR Macedonia: Lost & Found by Eye Cue
This skips around between time signatures and styles which keeps your interest, building to a super catchy chorus – only to revert back to the ska opening and do it all again, which feels both creative and mildly frustrating. Macedonia's Achilles heel with this is the staging: they've struggled to translate the song into an effective live version that gives it an extra push.
Verdict: Fun but frustrating.
Croatia: Crazy by Franka
A classy number backed up by quality vocals and an engaging live performance, albeit with some slightly cringeworthy spoken lines halfway through. It doesn't really go anywhere, though, which is dangerous in this semi final.
Verdict: Could easily get lost among strong competition.
Austria: Nobody But You by Cesár Sampson
Like the UK's SuRie, Cesár has a Eurovision pedigree, having been a backing singer and dancer in previous years. Now he's front and centre giving a strong account of himself supported by some effective gospel backing vocals. The rehearsal clips have held back the main element of his staging so it's hard to predict how that will look on TV.
Verdict: Deserves to qualify.
Greece: Oniro Mou by Yianna Terzi
A low key entry from Greece that won't be helped by being sandwiched between Austria and Finland. It's melodic and feels very… Greek. At least it's fortunate to be in the same semi final as Cyprus when it comes to the voting.
Verdict: Only the most memorable of performances will see it through to the final.
Finland: Monsters by Saara Aalto
X-Factor finalist Saara Aalto performed three songs for UMK, the Finnish selection show, all of them contenders, and this is the one the public went with. I've seen her do this live in person a couple of times as well as in rehearsal clips and she nails it every time. It's generic pop but no less good for it and there's quite the heart stopping moment at the end of her performance.
Verdict: Love it.
Armenia: Qami by Sevak Khanagyan
Sixteen songs in the audience may be starting to lose track, so Armenia have not chosen a good moment to serve up a forgettable ballad in Armenian.
Verdict: A forgettable ballad.
Switzerland: Stones by ZIBBZ
On first listen, I didn't like this. Then I did. Then I didn't. Then I saw it at the London Preview Party and was sold. This is a rocky number (with a bit of politics in the lyrics) that really comes alive in performance, as Coco prowls energetic around the arena.
Verdict: Stones over Bones.
Ireland: Together by Ryan O'Shaughnessy
While Ryan can pull it off, I still don't know why he's put so much of his song right at the top of his vocal range. Anyhoo, this is a pleasant, borderline insipid ballad lifted by some beautiful staging, complete with ye olde streetlamp.
Verdict: Ryan will be on Ryanair tomorrow morning.
Cyprus: Fuego – Eleni Foureira
It's the last entry of the night. You've got your scores sorted. You know who you're voting for but might as well see what the last country brings. And BOOM! It's back to the scoring board courtesy of Cyprus. If you were wondering where the big pop number was hiding, wonder no more. The studio version was good but Eleni explodes with the staging. It's an unashamedly big Eurovision performance from the dance routine to the memorable costume to the fire. FUEGO!
Verdict: Five pelicans out of five.
Predicting the qualifiers is a fool's errand but here we the ones I'd be putting through to Saturday's final:
Azerbaijan
Czech Republic
Lithuania
Israel
Belarus
Bulgaria
Austria
Finland
Switzerland
Cyprus
Will the wise voters of Europe agree? I'm off to the Altice Arena to find out.