Sunday. The sabbath. The day of rest. When God tells me to have a lie-in, who am I, a mere mortal, to refuse?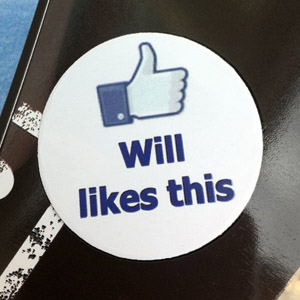 Sleep banked, I headed to the Pleasance Courtyard to see Phillipa and Will Are Now In a Relationship, a short, funny play told entirely through a Facebook wall-to-wall. It's very well observed and performed and although there are one or two occasions where the drama requires conversations that are unlikely to have taken place online, the play acknowledges this and turns it into a laugh. The conceit could easily outstay its welcome but at half an hour, the show is just the right length.
That sounds a bit like a review. I need to keep reminding myself not to review things.
After the play, I went next door to the Pleasance Gym for a run, giving my sore thigh and its large, multicoloured bruise a bit of a workout. Most importantly, I burnt off a few hundred calories and therefore was allowed to have a massive roast dinner. If God didn't mean us to stuff our faces with tasty, tasty meat on a Sunday, why did he invent Yorkshire pudding?
I had an evening nap and then took myself off to see Dan's "main" show, Lifestyles of the Weird and Aimless. That was a fun hour, although not for the first time I embarrassed myself by laughing too loudly at a joke – on this occasion, a lovely two-liner by Laurence Tuck.
LOTWAA is a free show and I've started to worry (it's a social situation – I worry) about free show donation etiquette. If you're doing a free show, as we are, then at mates' free shows, it feels a bit odd contributing to the bucket collection at the end. You end up recycling your own takings; if the same comics then come to your show and donate they're just handing the money back; and it's a bit weird (and feels almost patronising) chucking a few quid at someone you're friends with. But equally, I feel miserly walking past a collection bucket and not putting something in; I don't want to set an example to other audience members that they don't need to contribute; and you can never be sure whether not donating will be read as being tight-fisted or, worse, disliking the show.
Basically, it's a minefield of potential faux pas and someone should come up with a clear rule so we all know where we are. But then all social situations would be better with a rule book. Or, even better, a script.
What I learnt today: My laugh is too loud.
Recommended show: Phillipa and Will Are Now In a Relationship
Obligatory plug: I'm in Three Man Roast, 2.35pm weekdays and Saturday 20th at Finnegan's Wake on Victoria Street – free entry. Also at the Amused Moose Comedy Awards Showcase at the Pleasance Dome, 4pm on August 17th (book online).