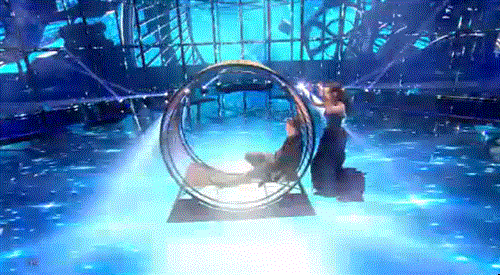 Ukraine have been in Eurovision since 2003 and have reached the final every year, save 2015 where they weren't able to take part in the contest because *cough* reasons.
In that time, they've won the contest twice and have also been responsible for some of the most memorable staging of the last 20 years.
In honour of their hosting this year's contest, here are my top 5 entries from Ukraine.
5. Ani Lorak – Shady Lady
This is what Ukraine entries have excelled at over the years: three-minute power pop brought alive on stage. Ani Lorak came second with her gaggle of energetic dancers and light-up fridges – and this is only number five.
4. Verka Serduchka – Dancing Lasha Tumbai
Verka's 2007 entry is a load of nonsense but it's also unashamedly fun and pretty unforgettable. The tin foil Timmy Mallett lost out to Serbia's Molitva but remains an enduring fan favourite.
3. Ruslana – Wild Dances
This was the country's second time in the competition and they only went and won! Ruslana subsequently spent a year as an MP in the Ukrainian parliament and continues to be politically, supporting ties between Ukraine and the EU and campaigning on human rights. The song's good, too.
2. Maria Yaremchuk – Tick-Tock
The man in a hamster wheel in Love, Love, Peace, Peace? This is where that's from. It's a simple idea that works brilliantly and fits the song perfectly. Mariya came sixth in the 2014 final.
1. Svetlana Loboda – Be My Valentine (Anti-Crisis Girl)
It might have been the least successful of the five, coming 12th in 2009, but this is my winner. What a first glance look like hamster wheels rotate outwards for Svetlana and her dancers, who are dressed like a Barbarella version of Roman centurions – someone in Ukraine really likes silver. The backing track is funky, Svetlana bangs the drums in the bridge, and the song has the best chorus of the lot. And then there's the dance move at 1m40s. Anti-crisis BOM.