…which will prompt the question from many: who is Matt Smith? (Aside from the Eleventh Doctor.) Here's a quick factfile to save your fingers and eyes from search engine fatigue.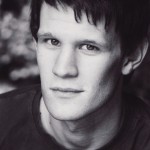 At just 26 years old, Smith will be the youngest Doctor ever, beating Peter Davison, who was 29 when he was cast as the Fifth Doctor.
Brought up in Northampton and initially planning to become a professional footballer, Smith studied drama and creative writing at the University of East Anglia in Norwich. Since then he has carved out a very respectable theatre career, his stage roles including Lockwood in The History Boys and Guy in Swimming with Sharks, opposite Christian Slater. He appeared in On the Shore of the Wide World, which won the 2006 Olivier Award for Best New Play.
His most notable TV role was a Labour researcher Danny Foster in BBC's political drama Party Animals. He also appeared in The Ruby in the Smoke, its sequel The Shadow in the North and an episode of The Secret Diary of a Call Girl – all three of them opposite former Doctor Who companion Billie Piper.
Smith had a small role as the young Ralph Fiennes in In Bruges and will appear this year as one of the leads in Moses Jones, a new thriller for BBC Two, alongside Shaun Parkes (Zachary Cross Flane in The Impossible Planet/The Satan Pit) and Tom Goodman-Hill (Reverend Golightly in The Unicorn and the Wasp).
Only recently mentioned in connection with the part, Matt Smith became a late favourite in the last few days, alongside Survivors' Paterson Joseph. Arguably Smith will be the Doctor least well known to TV audiences since Tom Baker. He'll begin filming this year and should make his first appearance as the Doctor in 2010.
Update: I'm fairly optimistic about this choice, by the way. I've only seen Matt Smith in bits of Party Animals (a series I wasn't a fan of), but he seems to have a good track record on stage and the production team were clearly impressed with him when he auditioned. A long time to go until we properly meet the new Doctor though…