Two fingers to Will Smith, Will Smith and Will Self because that's me according to Google: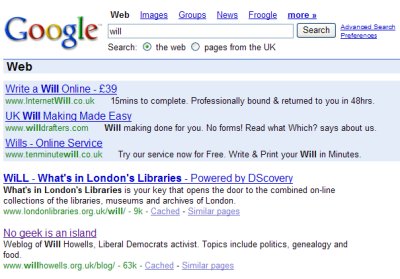 And yet – presumably because other bloggers link me by my first or full name – I'm not even on the first page for Howells. As my boss says, "That's the problem with ranking."*
I'm not sure what Google's description of this blog as "politics, genealogy and food" is suggesting. It seems to have originated here so I've submitted a change to remove the reference to food. I wouldn't want anyone to come here looking for recipes – they'd be terribly disappointed.
(*Let me pre-empt comments of the "I thought the problem with ranking was that you went blind" variety.)