There's a lot been written recently about flat tax proposals. Too often flat tax options have been deliberately muddled with tax cutting. It would be possible to introduce a flat tax at a sufficiently high rate that the total income tax take remains as it is now, but many of those proposing flat taxes sneak tax cuts in at the same time, muddying the issue.
The Tory Cornerstone Group, though, are fans of tax cutting and make it clear that their flat tax would cut taxes, helping "millions of low-paid workers and pensioners."
They propose a £10,000 personal allowance and a 22% overall rate. That's the same as the current basic rate, so let's guess who would benefit most from this. Is it "millions of low-paid workers"? Or is it folk who currently paying top rate tax? Is it possible that those getting the greatest tax savings would be the very richest? Here's a rough graph to give you a clue.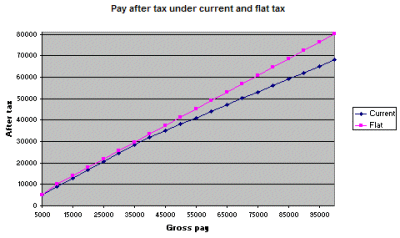 Can you tell who it is yet?