So, my weekend of General Election action.
The flight south was very bumpy. Turbulence is my number one reason for not flying. If the trains were quicker and cheaper, I'd happily stick to land-based transport. As well as being uncomfortable, the flight was late.
As I was working on the Guardian crossword, waiting for the shuttle bus from Luton airport to the station to leave, someone sat next to me. "Hello, Will," she said casually. One of those "small world" moments: it was Kat Fletcher, recently re-elected President of the National Union of Students, returning from a conference in Belfast. I told her that my blog was getting a significant proportion of hits from people in ac.uk domains searching on her name. It does seem to disturb people when I say things like that.
We had a good chat, catching up on events since we last bumped into each other (at LibDem autumn party conference), including the various controversies within NUS and which General Election candidates we were out campaigning for.
At Kings Cross, we went our separate ways and I returned to the crossword. Araucaria doesn't usually appear on a Friday and his crossword had a note at the top: "A 70th birthday tribute." A quick flick through to the Guardian birthdays identified the subject of the crossword as Alan Plater, or 16 6 10: "Birth/dayboy/Alan". I'll dig out my favourite clue from the puzzle at some point. I had to Google an Alan Plater bibliography to help me (I'd never heard of The Coalhouse Door) and managed about half the puzzle in the end.
Up bright and early on Saturday to go Blackfriars to meet The Boat. With banners on the sides (including "Labour sells students down the river"), campaign material loaded and big LibDem diamonds up on deck, we headed off up to the Thames to Westminster. There we were met by a big crowd of LibDems plus TV cameras and journalists, including BBC News.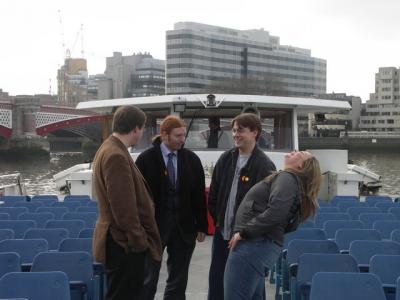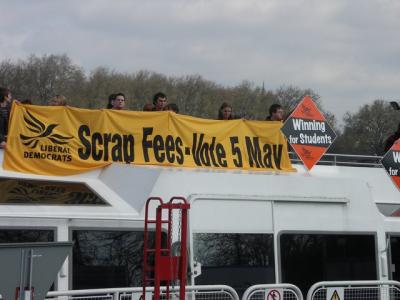 We then travelled down to Greenwich and dropped off Chris, the candidate for Greenwich & Woolwich, and Lord Dholakia. Then back to Westminster to disembark and distribute postcards and newspapers. We stopped at Downing Street and then headed on to Bloomsbury to deliver our student newspaper to halls of residence.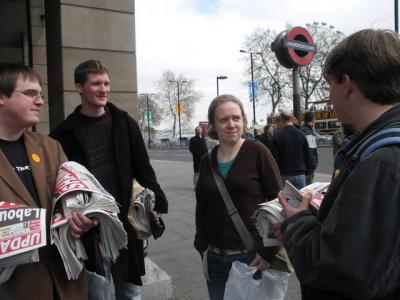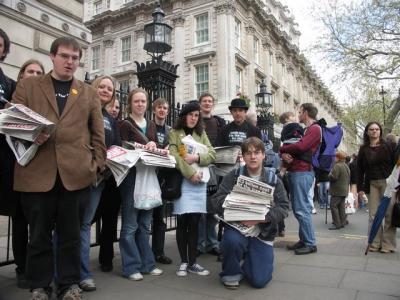 A late lunch and a quick committee meeting at ULU before heading off to Lewisham to Dan's for pizza, Doctor Who (more on that later) and a club.
After breakfast and a first stab at the Observer prize crossword, I headed to Orpington. By the end of the very long bus journey, I'd seen a swathe of orange Chris Maines diamonds and completed the crossword. (Note to self: Post prize crossword asap.) I did some delivery before being assigned to printing duties. A few hours and several thousands leaflets later, I had a particularly large and tasty dinner.
Monday morning, breakfast from McDonald's and a visit from the leader's battlebus. I spotted myself on the news (on several channels) holding a big diamond behind Charles Kennedy's head while he and Chris walked to and from the police station they were visiting. Some of the students from Orpington College were really keen to see Charles and had their photos taken with our big LibDem diamonds. Once the battlebuses (one for Charles and staff, one for the press) had headed off, I delivered some more leaflets. Then lunch with a group of helpers – including Eric Lubbock, aka Lord Avebury, who was Orpington's MP in the 1960s – and off to Luton for another bumpy flight. Monday's Guardian crossword – by Rufus, I think – filled my time on the aeroplane, bus and train home and I polished off that one too. By then, my back was starting to play up and I was stuck at home Tuesday, knocking back Panadol I'd bought at the airport.