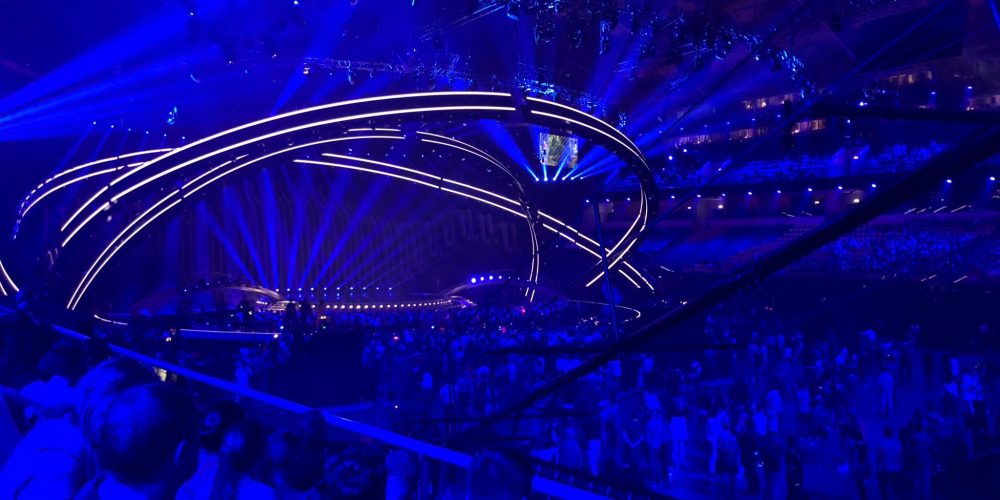 So 7 of my 10 chosen qualifiers made it through on Tuesday night, and it probably would have been 8 if I hadn't accidentally missed out dead cert Estonia when writing up the list. The biggest surprise for me was Ireland, whose staging really lifted the song and gave them a deserved place in the final for the first time since 2013.
Tonight, 18 songs battle for the 10 remaining spots. Let's meet them.
Norway: That's How You Write A Song by Alexander Rybak
Alexander won for Norway 9 years ago with Fairytale and he's back for another stab. This wasn't the best of Norway's song options but probably the most likely to win the Contest so in that sense it was the right choice. It's cheesy as hell but slickly and cleverly (if not cynically) executed, ticking every box it needs.
Verdict: One of the favourites even if that's not how you write a song.
Romania: Goodbye by The Humans
The first of several rockier numbers in this semi arrives from Romania and it's a cracker. The quiet opening is electrifying before it bursts into life with electric guitar and power ballad vocals. I fear that its early position in the running order and competition from similar songs may scupper it but this deserves to qualify.
Verdict: Triumph of the Autons.
Serbia: Nova Deca by Sanja Ilić & Balkanika
This is the most traditional song we've seen so far this year and it's a bit start-stop, the male vocals markedly more interesting than the female melody with which they alternate. The staging feels a little chaotic despite very little happening and I suspect this will be forgotten about as soon as the singers leave the stage.
Verdict: Already forgotten.
San Marino: Who We Are by Jessica feat. Jenifer Brening
This one won't be forgotten though – at least it's staging won't, thanks to a selection of dancing (well, slowly moving) robots. You read that right: this has a "feat" in the credits as we're treated to a Wannabe-style rap break mid song. The rest of it takes an inspiration from Heroes, which isn't a bad place to start, but it's nowhere near the same level.
Verdict: A guilty pleasure.
Denmark: Higher Ground by Rasmussen
The Vikings have arrived. This is a stompy Scandi anthem, complete with ships' sails and huge beards. Everything about the way it looks says the group are coming to pillage your village but the lyrics are deceptively pacifist, all about being the first to lay down your weapons. It's hard to pigeonhole this in a genre but it works well.
Verdict: All Aboard the longboat.
Russia: I Won't Break by Julia Samoylova
There has been talk of a shock failure to qualify for Russia and it's a real chance, although this seems to have improved in both singing and staging. The song is fine is unexciting but the visuals pull frustratingly away from Julia, lost atop of meringue mountain, who should be the centre of attention.
Verdict: Not Russia's finest hour.
Moldova: My Lucky Day by DoReDoS
The spirit of Bucks Fizz is alive and well and living in Moldova. The words and music and at the lighter end of pop but this is all about the staging, the harmonies and the performers' undeniable charisma. We have brightly coloured costumes and random body parts populating a Whitehall farce transported to the Eurovision stage. Their biggest risk is not pulling off the challenging dooreography.
Verdict: If Ray Cooney had produced Making Your Mind Up.
Netherlands: Outlaw in 'Em by Waylon
Waylon almost won the Contest four years ago as half of The Common Linnets with their inexplicably popular Calm After the Storm. Now he's back with a frankly better song which I mostly enjoy despite not being a fan of country music, of which this is at the rockier end. I heard someone on the Tube last night criticise him for being too slick, which is simultaneously fair and unfair.
Verdict: One to like but not to love.
Australia: We Got Love by Jessica Mauboy
Jessica represented her home country in 2014 when Australia were invited as guest performers and now she's back to compete. We Got Love is a solid pop song supported by simple and elegant staging: all flashing lights and cheerful prancing. She's an engaging performer who sounds great when she hits her stride, which she did in jury rehearsal – the result will depend on whether she does tonight.
Verdict: Australia continue to more than justify their inclusion.
Georgia: For You by Ethno-Jazz Band Iriao
The worst named act of the show turn up to give you your much-needed mid-show loo break. They are impressive singers but this is not engaging and the look of it only adds to the feeling that Georgia have accidentally sent a team of accountants.
Verdict: More loss than profit.
Poland: Light Me Up by Gromee feat. Lukas Meijer
It's another "feat" but this time Lukas is the lead singer and Gromee the goofy DJ. We're going into club anthem territory with this one, which they sell with a lot of energy. On the one hand, there are moments in the live vocals that always let this down a little; on the other, there are some great vocals too and this is a song where that's not the most important element.
Verdict: Wave that glowstick.
Malta: Taboo by Christabelle
Dark and broody with an upbeat line through it, Christabelle sells dystopian warnings with the help of an LED chamber. This feels different and interesting and it's a strong performance but I'm not sure who's going to vote for it.
Verdict: Could be Mad Max; could be Waterworld
Hungary: Viszlát Nyár by AWS
If you like the sound of screeching metal, this is for you. It's loud, brash and energetic and well executed, although the singer's long hair gets in the way of fully engaging with the audience. If you don't like this genre, though, it's unlikely to win you over.
Verdict: The heaviest rock but probably won't sink.
Latvia: Funny Girl by Laura Rizzotto
I really like this song. The lyrics are interesting, the music is sultry and her vocals are pleasant on the ears. But the staging is wrong, wrong, wrong. Even though she's alone on stage, what should feel heartfelt and spontaneous looks choreographed and contrived. Arm movements that should come from the passion of the music instead look rehearsed, and that takes away so much from the song.
Verdict: Deserves better.
Sweden: Dance You Off by Benjamin Ingrosso
There have been a few tweaks to warm up Benjamin's relationship with the audience but this is otherwise the same polished performance we saw in Melodifestivalen – and there was little reason to change it. It's a Michael Jackson/Justin Timberlake number performed on the set of Tron.
Verdict: Sweden know what they're doing.
Montenegro: Inje by Vanja Radovanović
Vanja has the oddest stage persona. He looks like a nerdy guy who has accidentally wondered into a huge international arena and is asking the ladies surrounding him for directions. However, he also has a good pair of lungs to deliver this slightly dull song.
Verdict: There's only room for one of this and Serbia at most and it should be this.
Slovenia: Hvala, Ne! by Lea Sirk
The best part of this is the very beginning. The worst is an unnecessary gimmick towards the end that just gets in the way of the song, which has run out of steam a little at that point.
Verdict: Just sing the song.
Ukraine: Under the Ladder by Mélovin
As in semi-final 1, we end with fire. This is emo, gothic, overblown and theatrical and all the better for it. The staging is dramatic but it's all in support of the song and Mélovin's engaging performance.
Verdict: Bring me to life.
So which 10 am I sending through? The winners are less clear this time even though fewer songs will miss out but here's my list:
Norway
Denmark
Moldova
Netherlands
Australia
Poland
Hungary
Sweden
Montenegro
Ukraine
I came up with 11 so I've bitten the bullet and taken Russia out. We'll find out tonight if that was right.