I took advantage of a day off today to watch my favourite episode (so far) of Adam Adamant Lives!, a 1966 Austin Powers-esque series about a swashbuckling Edwardian hero who is frozen in time and wakes up in the swinging sixties.
This particular episode is called To Set a Deadly Fashion and involves an absurd spying plot involving haute couture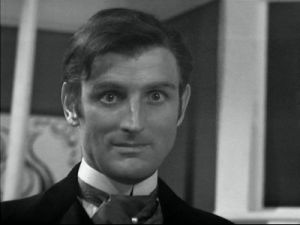 dresses containing hidden bugging devices which are sold to diplomats' wives – and which can also kill. We never find out who the secrets are being sold to but it doesn't really matter – the episode is carried by Adam Adamant himself and Roger Clair, the villain. Gerald Harper (right – he has something of the David Tennant about him) plays the title character perfectly. He's charismatic and poised, but thrown by the modern world: in this story, he finds himself sitting beside the catwalk at a fashion show at which models in swimwear are paraded in front of him. Appalled, he averts his eyes.
The antagonist, Roger (pretentiously pronounced Roget, like the thesaurus) Clair, is a fashion designer, who subverts the stereotype by also being a spy.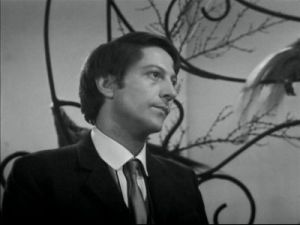 This also subverts the stereotype for villains in this sort of adventure series: rather than shouting "Guards, seize him!" or somesuch, he snaps at his goons ("I'm in no mood for your sarcasm, Philip!") and throws hissy fits. Colin Jeavons (left) pitches the role exactly right: just enough campness to entertain without going so over the top as to fall into the style of the contemporary Batman series. (He would go on to play the equally arch Tim Stamper alongside Ian Richardson's Francis Urquhart in House of Cards and To Play the King, and was also in the Doctor Who story The Underwater Menace" and Who spin-off K-9 and Company.)
He is helped by some great dialogue. No Bond villain ever uttered, "Any more delays and I shall be absolutely furious, I know I shall," or "Thank heavens for built-in bras." Faced with Adam Adamant, he is frustrated more than anything else:
"My nerves are in absolute shreds but you will persist in being difficult. One more word, just one, and I shan't be responsible for my actions."
He can't bring himself to kill Adamant simply, though, like all action villains and despite his sidekick's urging. He instructs his goon to kill Adamant on a cue: when the fashion show announcer declares "…executed in Grecian drapes." It's little surprise that Adam Adamant Lives! was the BBC's answer to The Avengers.